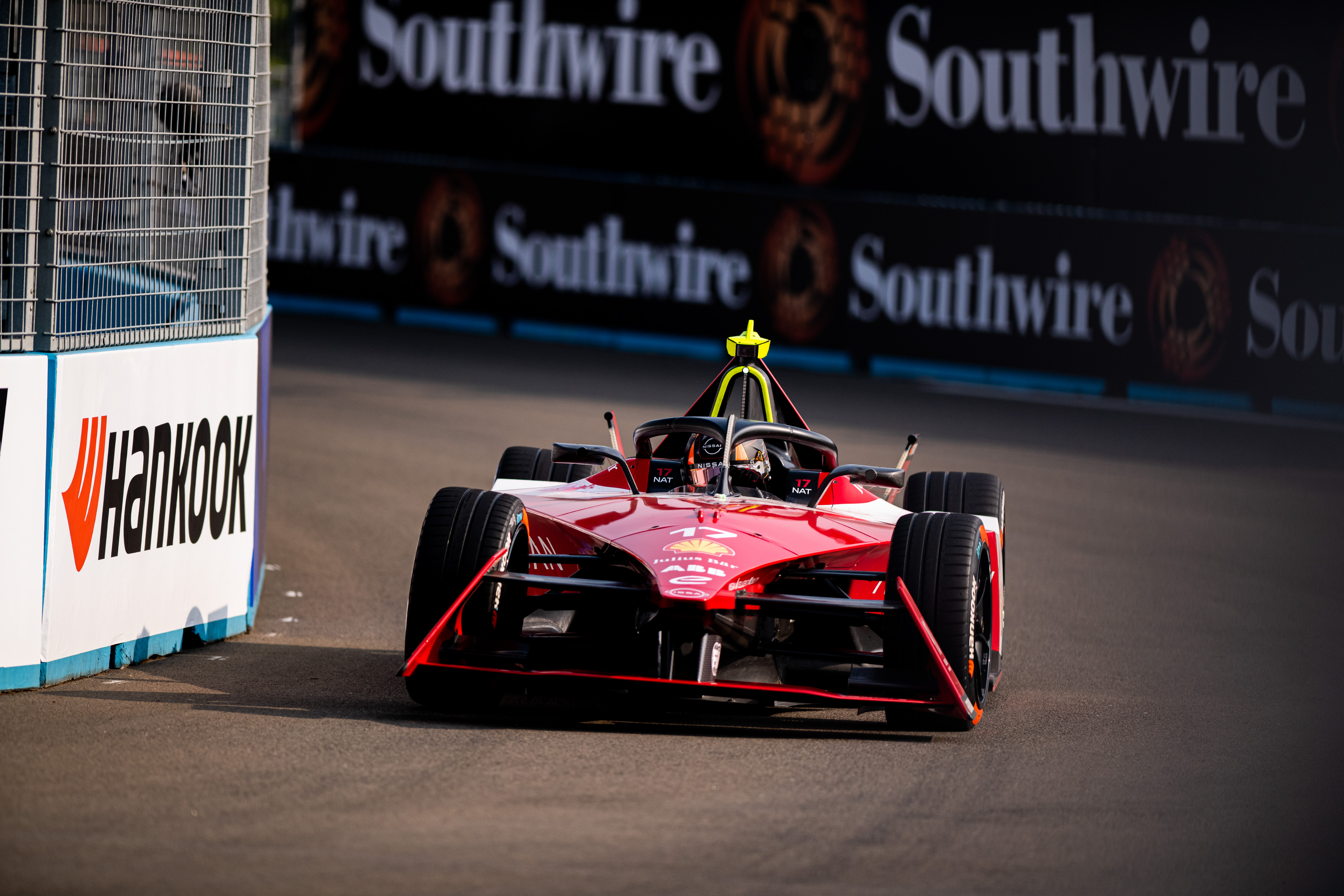 Nissan Formula E Team takes double top-five finish in Jakarta
Fenestraz and Nato both score strong points in second race of doubleheader
JAKARTA, Indonesia (June 4, 2023) – Nissan Formula E Team took their best result of the season in Jakarta, with Sacha Fenestraz and Norman Nato both putting in excellent performances to take fourth and fifth respectively in Round 11 of the 2022/23 ABB FIA Formula E World Championship.
After a tough first race of the weekend for the squad, Fenestraz claimed second in his qualifying group on Sunday, progressing to the Duels. The Franco-Argentine driver started seventh, and got an excellent launch off the line, moving up to fourth by the end of Lap 1.
Meanwhile, Frenchman Nato was making solid progress through the field, keeping cool in the Jakarta heat to make places during the Attack Mode phase. Having started 12th, Nato avoided incidents ahead of him and used his speed and overtaking ability to move further into the top-10.
Helped by the team's strong strategy, both drivers continued to push into the higher points-paying positions, challenging for a podium spot until the final corner. The pair combined for 22 points, the squad's best result of the season so far. Formula E returns on 24 June for the final single-header of the season, as the series makes it first visit to Portland, USA.
Tommaso Volpe, managing director and team principal, Nissan Formula E Team: "A rollercoaster of a weekend, with a tough race yesterday and a really good one today. We were stronger in qualifying and had a much better strategy during the race. Both drivers did a great job, with some impressive overtakes. Sacha even battled for the podium until the final corner, while Norman's defense was very solid at the end of the race. We can be very happy with our performance and proud of the team and drivers. Our focus now is to take this positive showing into the next round in Portland to pick up even more points there."
Sacha Fenestraz: "This weekend was a good way to see our strengths and weaknesses as a team. Today was a very positive race, it was great for the crew to reward their hard work over the last few months. Yesterday was quite frustrating, but we came back strongly and both cars had very good pace. Norman did a superb job to come from P12 on the grid to P5 at the finish and I'm really happy that we both took a strong result. The heat was definitely a challenge, but the humidity was the most difficult. However, we pushed through as a team to score some really good points. I'm now looking forward to Portland, it's a brand-new track for all of us so it should be an interesting one!"
Norman Nato: "Today was really positive. We changed the setup, because yesterday we weren't so competitive and it worked for us. We managed to put it all together in the race and react from the frustration of Saturday to get a great result for both cars. We'll now look to analyze this one to see what we can do to continue improving for Portland. We had strong pace throughout today's event, so we have to aim to score big points for the rest of the season. We're not far off the leading teams based on this performance, and we have five races left to prove what we can do this year."
About Nissan in Formula E
Nissan made its all-electric racing debut in Season 5 (2018/19) of the ABB FIA Formula E Championship, becoming the first and only Japanese manufacturer to enter the series. In Season 7 (2020/21), Nissan announced its long-term involvement in Formula E and its commitment to the Gen3 era, which will run from Season 9 (2022/23) through to the end of Season 12 (2025/26) of the all-electric racing series. In April 2022, Nissan acquired the e.dams race team, with the Japanese automaker taking full ownership of its involvement in the ABB FIA Formula E World Championship. In June 2022, Nissan announced it would supply its Nissan EV powertrain technology to McLaren Racing for the entirety of the Formula E Gen3 era.
For Season 9 of the ABB FIA Formula E World Championship, the Nissan Formula E drivers will be Norman Nato and Sacha Fenestraz. Nissan races in Formula E to bring the excitement and fun of zero-emission electric vehicles to a global audience. As part of its goal to achieve carbon neutrality across its operations and the life cycle of its products by 2050, Nissan intends to electrify every all-new vehicle offering by the early 2030s in key markets. The Japanese automaker aims to bring its expertise in transferring knowledge and technology between the racetrack and road for better electric vehicles for customers.
About Formula E
The ABB FIA Formula E World Championship became the first global sport to be certified with a net zero carbon footprint from inception back in 2020, having invested in certified climate-protecting projects in all race markets to offset emissions from every season of electric racing. All cars in the championship are powered by electricity, with the series acting as a competitive platform to test and develop the latest in electric technology. The World's greatest manufacturers race against each other on street circuits and Formula E promotes the adoption of sustainable mobility in city centres in a bid to combat air pollution and lessen the effects of climate change.